I'm told that once upon a time, Hewlett-Packard was a great company. Founded and run by engineers it made solid, well designed products and treated their employees well. I haven't any idea how they treat their employees these days, but I can tell you that the days of making well-designed products are over.
The other day, one of the executives of the company I work for decided he needed a new printer. He was tired of switching paper around or using manual feed whenever he wanted to print on legal sized paper, so he requested a printer with two paper trays–one for letter, and one for legal. This is not an unusual request, and when it comes from an executive, the answer is always "Yes sir, right away sir." So a dual-tray printer was ordered and arrived in short order.
Now, I don't actually deal directly with desktops and printers in my day job, so I was only aware of this whole scenario when the giant box showed up in my team's area the other day. It was quickly unpacked and set up in our test area, which happens to be right behind my cubicle. It didn't take long for the banging to begin. Thumps, crashes, and muttering very quickly disrupted my concentration (believe it or not, I was actually working at the time) and I turned around to see what the fuss was all about.
"It must be caught on something," says one teammate. "There's probably a catch somewhere you have to press to make it go all the way in," says another. I turn around and see them struggling to get the legal sized paper tray into the new printer. It goes in smoothly most of the way then stops, leaving about two inches of the tray sticking out. It looks a little something like this: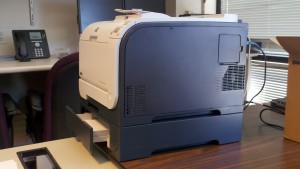 Clearly something isn't right. They pull the tray out again, and examine it more closely. "It's catching on these two plastic clips," says teammate one. "Do they come off?" says the other. "…no, they look pretty solid."
At this point I get up to take a closer look. Sure enough, there are two plastic "ears" sticking out from the side of the paper tray, preventing it from being inserted any farther into the printer. I put the tray back in the printer myself and bang it around a bit. It's not going anywhere, it's just stubbornly stuck in that seemingly wrong position.
"Let me try printing something from that tray," says teammate one.  He punches the menu buttons a few times, and the printer whirs to life. Fairly quickly, a test page printed on legal paper comes out the top. We stand there in stunned silence. "No way," says teammate one finally. "There's no way it's designed to be that way."
Finally, somebody suggests reading the manual. We're men, and IT guys besides that, so of course it has taken a long time for us to actually think to look at the setup instructions. Sure enough, we find this gem in the manual: "The extended paper tray will extend beyond the edge of the printer."
Wow.
"I'm taking this up with me when I take the printer to his office," teammate one says. "He'll never believe it's supposed to be this way otherwise."
So I say to you, HP, if you actually put out a printer that looks like this by design:
Then you fail at engineering, and no longer get to hype up your "founded by engineers" background.